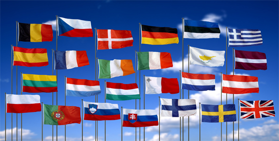 Owner exclusive expo:
The first Wind Expo in the World - with NO sales pitches
The Wind Expo of 2017 was a success!
At a normal wind expo, you discuss wind farm operations only with persons who want to sell you their products and/or services.

At our Wind Expo, we do not have anyone who has anything to sell you, only true peers sharing the same perspective and honestly balancing pros and cons.


It's just the opposite
At a normal Wind Expo, you meet sales reps, telling you which problems that their products/services will solve, here it's just the opposite - you will meet people, telling you which products/services did not work
At a normal Wind Expo, you find fancy posters at each stand promising you a bright future, here its just the opposite - you will find an A4 sized paper carefully describing achievements and future challenges held by the company who has the stand.
At a normal Wind Expo, you find a generous supply of beer, covered by a marketing budget and delivered by a catering service, here its just the opposite - our delegates have carefully packed some bottles of famous national beverages at home and brought it to their stand to be served with great pride, probably financed with private money.
At a normal Wind Expo, you will become very exhausted of everyone trying to pitch their ideas and wanting you to commit, here its just the opposite - you are hanging out with your true peers sharing the same perspective and honestly balancing pros and cons.
Preparations
At the conference venue, we have arranged for a little exhibition. Each company has been given a stand to present their company from a wind farm operation's perspective.

At each stand each company has a poster listing the following:
Top three major wind farm operations activities planned within the next 12 months,
Top three wind farm operations activities that turned out to be much better than expected during the last twelve month
Top five most usual wind turbine models within their fleet
Most likely that should give you a lot o talk about with your peers. Prior to the event, your company will be sent a link to answer these three questions

Last year most of the companies brought some famous national beverages from their respective countries to be served at their stand. My personal favorite was our dear delegate who brought liquor produced by his own grandfather. O2O WIND is not involved in this process it just happens.

Yet a different way off approaching wind farm operations in an international environment.