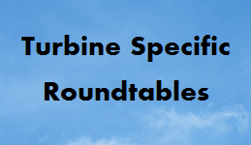 End-User in Roundtable discussions on the:
Enercon E66-E92

25 OCT - 13:45 - 15:30
An event where you will only meet professionals working directly for other wind turbine owners
Don't waste your time traveling to conferences to listen to sales pitches. Cut out all sales pitches and meet directly - only with genuine wind turbine owner peers.

That's right, only professionals working directly for wind turbine owners can join this event. Meeting with only other end-users of wind turbines creates a completely different dialog, or as said by the Global Head of O&M at Enel Green Power who visited our event in 2017: "It has been a very productive and transparent dialog between all of us".

The roundtable presented below can be one of the most valuable discussions you will have this year:
Description:
The Enercon E70-E92 platform is another popular turbine among wind turbine owners. Enercon is a supplier that provides very long term service deals, Of course, this rugged synchronous turbine has like all the other manufacturers some issues.
Agenda suggested for discussions:
Documentation - Do we have access to all information the OEM can provide?
How to reset so called star alarms - This alarms requires a service code that only given by Enercon to Enercon employees.
Spare parts - Cut down the lead-time, ordering spare parts and the possibility to change by third party contractor.
Blades – Maintenance issues and what about the quality of Enercon's own blade inspections. Action plans after inspected? Does this inspection requires another inspection to estimate the costs of possible repairs?
Pitch system - Have others seen problems with sensors, broken beams inside the blade root etc.?
Electrics - Generator issues and frequency controlled systems as controller/motors/fans etc. both in lower tower section and up in the nacelle.
Blade heating – Costly and less productive or a good thing that we must have?
Is it still a closed closet or have Enercon along with other suppliers started to open up for the future and are willing to let subcontractors fight over maintenance deals? – Is this really possible when Enercon has their own hardware controllers?
Your top challenge – directly included
You and your most relevant challenges will be directly included in this roundtable discussion. Prior to the event you will share your top challenge and your input for other's top challenges – within the topic of this roundtable. When you arrive you will find a booklet with your top challenge at the top of one page and with suggested approaches from your peers around this roundtable underneath. There will be one such page for each participant and this will be the foundation for you discussions.