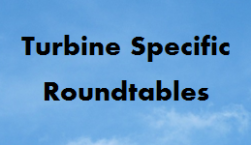 End-User in Roundtable discussions on the:
GE 2,5

25 OCT 13:45-15:30
This roundtable was created ad hoc some days prior to the event, in-line with a humble wish from one of the biggest GE 2,5 owner in the world. Here on the homepage we will write less about the actual challenges with operating this machine but I am sure that the two persons will have great in-depth discussions during the afternoon.
Case Studies presented and discussed by:
Johannes Derneryd, Analyst Wind & Operation at Stena Renewable AB
Dragos Sopoglu, Operation and Performance Specialist at CEZ Group
Joe Dalton, Director asset management at NTR PLC
Tomás Hayes, Project Manager at Brookfield Renewable Energy Group - Ireland
Your top challenge – directly included
You and your most relevant challenges will be directly included in this roundtable discussion. Prior to the event you will share your top challenge and your input for other's top challenges – within the topic of this roundtable. When you arrive you will find a booklet with your top challenge at the top of one page and with suggested approaches from your peers around this roundtable underneath. There will be one such page for each participant and this will be the foundation for you discussions.