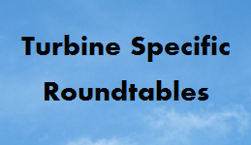 End-User in Roundtable discussions on the:
Nordex 2,3-2,5 MW
Including following models:
N80, N90, N100 & N117
25 OCT - 13:45 - 15:30
How is this done?
What a relief… to sit down at the same table with only other wind turbine owners. The best possible conditions to have, what the Global Head of O&M at Enel said about 2017: "A productive and transparent dialog between all of us". If you are tired of sales pitches, then this is your event: only wind turbine owners & no sales pitches. This is your best oasis to have the true version of end-user experiences from the wind industry. Feel free to explore which topics & models will be discussed, who has booked and evaluations from 2017
Description:
The Nordex 2,4-2,5 MW gamma platform is the most sold turbine model from Nordex. The gamma platform includes turbine models with the rotor diameter of 80-117 meters and also with the choice as a Cold Climate Version for operation in cold climate. The gamma platform have had several issues regarding gearboxes, tower oscillation, MW cable connections, cooling systems, hydraulic pressure etc. Technical issues and common faults will be discussed and how well Nordex works as your O&M provider.
Agenda suggested for discussions:
Drive train issues and common experiences
How well has the Anti-Icing System delivered?
Hydraulic system
Electrics: Generator and MW equipment
Limitations with control system
How to handle tower oscillation
Experiences from turbine operation
Power curve modes
Tonal noise
How to deal with the nervous behaviour of the controller?
Effectiveness of Wind Sector Management
Major faults with this turbine type?
Final documentation package delivered by Nordex
Convertor Issues
Case Studies presented and discussed by:
Brian Mullen, Operations Manager at Energia Generation - Ireland
Dirk Oehlmann, Asset Manager at IWB - Switzerland
Henrik Renberg, Development Engineer at Skellefteå Kraft - Sweden
Thomas Svensson, Engineer Wind Power Plants O&M at Stena Renewable AB - Sweden
Your top challenge – directly included
You and your most relevant challenges will be directly included in this roundtable discussion. Prior to the event you will share your top challenge and your input for other's top challenges – within the topic of this roundtable. When you arrive you will find a booklet with your top challenge at the top of one page and with suggested approaches from your peers around this roundtable underneath. There will be one such page for each participant and this will be the foundation for you discussions.
Companies to be found at various roundtables in 2018: