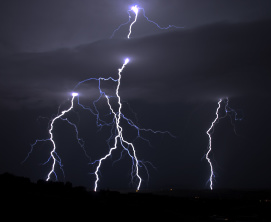 Wind turbine owner's roundtable:
Lightning – Protection, Repair & Claims
24 OCT - Session 1
View timetable
An event where you will only meet professionals working directly for other wind turbine owners
Don't waste your time traveling to conferences to listen to sales pitches. Cut out all sales pitches and meet directly - only with genuine wind turbine owner peers.

That's right, only professionals working directly for wind turbine owners can join this event. Meeting with only other end-users of wind turbines creates a completely different dialog, or as said by the Global Head of O&M at Enel Green Power who visited our event in 2017: "It has been a very productive and transparent dialog between all of us".

The roundtable presented below can be one of the most valuable discussions you will have this year:
Description of this roundtable:
Lightning is a major issue for wind farm owners and can create severe damages, unnecessary repair costs, and painful downtime. Furthermore, it is also essential how potential lighting issues are negotiated in contract negotiations with the OEM and service provider. On the How an owner should act to avoid damages, repair costs and downtime – originating from Lightning Strikes
Agenda suggested for discussions:
How to quantify the level of lightning exposure on specific wind sites?
What shall we demand from the OEM in regards to compliance with standards and provision of lightning performance documentation?
How to design your SA so that the OEM can't claim 'force majeure' for specific lightning damages?
End-of-warranty inspections of lightning protection systems – How to identify a good design and how to find hidden failures and potential weaknesses?
How to handle the LPS (Lightning Protection System) and maintenance of it?
Interpretation of section 12.2 in 61400-24: Suppliers claim that if connectivity is checked in the factory before delivery its no need for further testing - is this correct?
Common experiences from damages and claims due to lightning.
Experiences of insurance company's point of view on damages and claims due to lightning?
How often to inspect your LPS?
Which technology can be recommended for lighting detection?
How could an owner develop and implement lightning protection improvements – is it possible and what does it cost?
Your top challenge – directly included
You and your most relevant challenges will be directly included in this roundtable discussion. Prior to the event you will share your top challenge and your input for other's top challenges – within the topic of this roundtable. When you arrive you will find a booklet with your top challenge at the top of one page and with suggested approaches from your peers around this roundtable underneath. There will be one such page for each participant and this will be the foundation for you discussions.