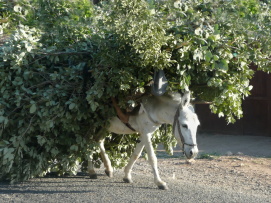 Wind turbine owner's roundtable:
Real loads assessment at site assessment level
24 OCT - Session 1
View timetable
An event where you will only meet professionals working directly for other wind turbine owners
Don't waste your time traveling to conferences to listen to sales pitches. Cut out all sales pitches and meet directly - only with genuine wind turbine owner peers.

That's right, only professionals working directly for wind turbine owners can join this event. Meeting with only other end-users of wind turbines creates a completely different dialog, or as said by the Global Head of O&M at Enel Green Power who visited our event in 2017: "It has been a very productive and transparent dialog between all of us".

The roundtable presented below can be one of the most valuable discussions you will have this year:
Description:
Wind industry was using standard major components for decades (bearings, generators, gear motors, …) the fact is that besides single failures due to material or manufacturing, many serial early wear or early degradations are affecting those components. This is leading to additional repairs and over costs over the business plan that are difficult to forecast.

The typical example is the gearbox. According to the standards, those are supposed to be designed to last 20 years with less than a 10 percent failure rates. But for almost 15 years everybody (including insurers) agrees that the average life is more 10 than 20 years. Thanks to monitoring failure rate decreased but not the major maintenance operations.

It may not affect the whole fleet of a turbine type but when early wear, spalling, white etching cracks or fatigue cracks is starting, it is pretty sure that it will become serial on this site with a frequency that is way above the ten percent allowed by the L10 calculation for a 20 years lifetime given in the IEC 61 400-1 and in the ISO 281.

A lot of explanation was given on RCAs but in other industry fields, those same components are matching the expected lifetime most of the time.
Agenda suggested for discussions:
Is there any fatigue load underestimation at site assessment or in the design?
Why standard components (or even specific such as gearboxes) are not reaching the expected lifetime in wind despite the IEC 61400-1 standard?
Why in wind only two major bearing manufacturers had to develop specific main bearings (SRBs) as a retrofit with increased axial capacity?
Why is it so difficult to compare real loads on site with design loads with the OEMs?
What would be the Owner/Operator exposure to very high serial over costs by the end of its business plan?
Are the current fatigue loading models good enough for every site?
Aren't we neglecting or underestimating some fatigue loads?
Is a better load assessment at development stage necessary?
What could be improved in site assessment to give a better view of additional fatigue loads due to inflow angle, turbulences, wake effect, wind shear, transients, and so on?
How to have a better estimation of combine fatigue loading than the current standards?
When talking about lifetime extension, what NDT could assure that fatigue process is not affecting the structural parts on sites where major components aren't reaching their theoretical lifetime?
Are the OEMs and certification bodies transparent enough toward the Owner/Operators with current site assessment methodology (and specifically for major components lifetime assessment as part of the business plan)?
Your top challenge – directly included
You and your most relevant challenges will be directly included in this roundtable discussion. Prior to the event you will share your top challenge and your input for other's top challenges – within the topic of this roundtable. When you arrive you will find a booklet with your top challenge at the top of one page and with suggested approaches from your peers around this roundtable underneath. There will be one such page for each participant and this will be the foundation for you discussions.