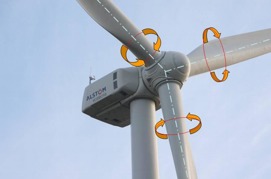 Wind turbine owner's roundtable:
Optimal Pitch Settings & Energy Yield
24 OCT - Session 1
view time table
An event where you will only meet professionals working directly for other wind turbine owners
Don't waste your time traveling to conferences to listen to sales pitches. Cut out all sales pitches and meet directly - only with genuine wind turbine owner peers.

That's right, only professionals working directly for wind turbine owners can join this event. Meeting with only other end-users of wind turbines creates a completely different dialog, or as said by the Global Head of O&M at Enel Green Power who visited our event in 2017: "It has been a very productive and transparent dialog between all of us".

The roundtable presented below can be one of the most valuable discussions you will have this year:
Description of this roundtable:
Speaking about pitch settings with a specialist working for a wind asset owner is like discussing tactics with an Olympic sailor. This is one of the most advanced challenges facing wind asset owners. It's complex, needs a dedicated OEM and some non-cheap hard and software. Not exploring and learning this part of the business means that the potential losses will still be there hidden in the reports. Even if it has not been explored much the level of knowledge among the owners is very high and their top challenges are very specific and detailed. That's a good starting point for good discussions.
Agenda suggested for discussions:
What would be the best approach for the active owner to ensure that pitch and yaw is optimised for their turbines
Optimal pitch would be a combination of max production and min loads. Shouldn't estimation of degradation due to fatigue be part of this analysis?
How is a suspected pitch error identified in the first instance?
Conclusion where should an owner focus to have increased power output from blades - pitch, yaw and aerodynamics
I would like to know more on the best method on turbine alignment
How to review the actual pitch setting of each blade that is notionally at?
Correct procedures for identifying blade / rotor misalignment and imbalance, Risks to the drivetrain for continued operation in this condition, Power curve losses?
are there cost effective method for pitch angle measurements?
Your top challenge – directly included
You and your most relevant challenges will be directly included in this roundtable discussion. Prior to the event you will share your top challenge and your input for other's top challenges – within the topic of this roundtable. When you arrive you will find a booklet with your top challenge at the top of one page and with suggested approaches from your peers around this roundtable underneath. There will be one such page for each participant and this will be the foundation for you discussions.