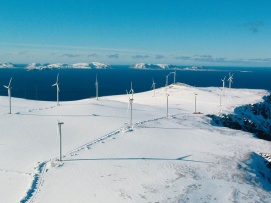 Wind turbine owner's roundtable:
Wind farm operations in Cold Climate
25 OCT - Session 2
View timetable
An event where you will only meet professionals working directly for other wind turbine owners
Don't waste your time traveling to conferences to listen to sales pitches. Cut out all sales pitches and meet directly - only with genuine wind turbine owner peers.

That's right, only professionals working directly for wind turbine owners can join this event. Meeting with only other end-users of wind turbines creates a completely different dialog, or as said by the Global Head of O&M at Enel Green Power who visited our event in 2017: "It has been a very productive and transparent dialog between all of us".

The roundtable presented below can be one of the most valuable discussions you will have this year:
Description:
Icing can seriously collapse any budget in wind farm operations. It is not only our members in Northern Europe and North America that have issues with icing. Members from Turkey, Italy and Spain have also been posting challenges on icing issues at o2o wind.

OEMs are developing (or protecting) solutions and various research institutes are approaching wind farm operations in cold climate. Nevertheless the most interesting is how these solutions and research initiatives can come into practical use.

This roundtable discussion is gathering the end users, i.e. the wind asset owners, to learn from each other what has good practical applications when it comes to ice in wind farm operations
Agenda suggested for discussions:
How to estimate production losses due to icing?
How ice on blades can cause unexpected damages such as cracks and surface damages?
Experiences from applying de-icing and ant icing fluids - proven performance, commercially feasible and risks associated to the environment?
Experiences from pouring warm water over the blades from a helicopter?
Experience of hydrophobic coatings – effect and duration of the coating?
Experiences from heating the blades?
Experiences from anti-icing coatings for already installed blades
Which main component to choose for ice-phobic coating - fluorosilicone or fluoropolymers or other suggestion?
How to measure ice at wind turbine blades?
How to handle icing as potential exclusions in availability guarantees?
How should costs for installing blade de-or anti-icing systems on operating turbines be shared in-between the owner and the OEM?
How to best decide when start or stop the ant icing - is the combination of detecting deviation from the P/W-curve in combination with the temperature (+4 to -10 Celsius) the best option?
Reliability of de-icing systems: How promptly do de-icing systems react to icing variability?
Owner's perspective on: Smart data analysis and interpretation to tackle production losses
Owner's perspective on: cost-analysis, production gains and ROI for ice prevention systems?
Owner's perspective on: Reliable ice risk assessment for improved bankability: Practices to minimize financial risks and Warranty systems
Owner's perspective on: Smart analysis of operational data for enhanced production: Tools for the prediction of production losses
Owner's perspective on: How to predict energy losses due to icing? How accurate are the different methodologies?
Your top challenge – directly included
You and your most relevant challenges will be directly included in this roundtable discussion. Prior to the event you will share your top challenge and your input for other's top challenges – within the topic of this roundtable. When you arrive you will find a booklet with your top challenge at the top of one page and with suggested approaches from your peers around this roundtable underneath. There will be one such page for each participant and this will be the foundation for you discussions.