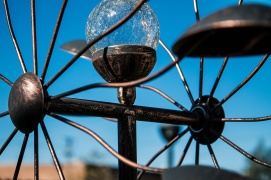 An event where you will only meet professionals working directly for other wind turbine owners
Don't waste your time traveling to conferences to listen to sales pitches. Cut out all sales pitches and meet directly - only with genuine wind turbine owner peers.

That's right, only professionals working directly for wind turbine owners can join this event. Meeting with only other end-users of wind turbines creates a completely different dialog, or as said by the Global Head of O&M at Enel Green Power who visited our event in 2017: "It has been a very productive and transparent dialog between all of us".

The roundtable presented below can be one of the most valuable discussions you will have this year:
Description:
The gearbox is the component that causes the longest downtime. From an operations or maintenance perspective, it is the most significant component. The costs related to gearbox damage or dysfunction is also significant.
Then again it's a known fact that the gearbox is just the fuse that goes off and that the actual cause is very often found outside the gearbox.

On this roundtable, we take a closer look at Gearbox, Drivetrain, and Oil.

Agenda suggested for discussions:
How to recognize failures at an early strange and how to prevent them
Have you seen examples where the choice of oil has had a tangible impact on GBX lifetime?
How to do Condition Monitoring for innerparts of Gearbox to detected early indications of malefunctioning evolving
Particle counters realibility vs cms to detect early stage failure on the gear box.
Whether to invest time and money in CMS or other condition monitoring activities or focus on limitation of damage
How to predict the damages in the most earliest stage?
Which parameters to be checked for failure detection?
Optimize cost of changeing a gearbox
Identify different categories of damages and how they typically develop
Turbines over 10 years in operation showing gearbox and main bearing failures.
New technolgies - predictive maintenace of gearbox by vibrator analysis .
Main bearing failure detection
As an investor, we do not have access to enough statistics and have to count on our contractor for recommendation.
Gearbox monitoring and replacement
High variance in failure rates
Detect through the SCADA data and alarms a possible damage in the gearbox.
CMS systems (BKV) for drive train and GBX monitoring.
Assess what small indents on bearings, gear wheels, etc. have as impact on the lifetime
Endoscope analysis
Serial defects from the OEM and pro-active implementation of any retrofits that have been designed to prevent these serial defects. How do we become aware of these retrofits from the OEM?
How can you extend the life-span of the gearbox?
Recognize failures at an early stage and how they can develop
Can oil analysis give us the exact point of wear depending on the elements that are increased? Should we replace the oil according to the oil manufacturer or based to oil analysis?
Planetary carrier bearings
Oil Analysis Common Failures Scheduled Maintanence Activities Predictive Maintanence Activities
I am new on the wind energy field, I work as a Control Room Operator, this is our first year in operations (the wind farm), the wind turbines have been in operation for a short period of time, so we haven´t had any issues with the gearbox nor the drivetarin, but I am interested on hearing people\'s experiences on this matter
Gearbox failures- bearings
Prior to talk about lifetime extension, what is the point of buying components such as the gearboxes supposed to last 20 years according to the L10 calculation (IEC 61 400-1) when it is recognized in the wind business including insurers statistics that it is lasting only up to 10 years as an average ?
Bearings
Lifetime extension when a design fit for site.
Lifetime extension when higher design than site.
Best CMS signal for issue detection and what does it look like!
Lowering of monitoring cost while extending the life of wind turbine
Repower vs Life Extension of wind farm. Wich is the best option?
Field service, how to detect critical failures in advanced
Recognize failures at an early stage and how they can develop
Boisen from the gearbox.
Any failures that can be related to cold temperatures (cold start-ups ; pump failures due to low temperartures and high viscous oils) ; standstill-marks in cold climate due to stopping of ice detection in low temperatures ; effects of icing & unbalance on drivetrain components.
Will grid fluctuation effects wind farm gear boxes?
Intermediate tooth fractures
How to determine the remaining life time of the gearbox after the first sign of bearing damage.
How to interpret an inspection report and oil analysis from a Gearbox
The most relevant challenge is the gearboxes life-span and its extension, both on the operation period as on the repairing actions. Elaborate on what can be done to diminuish the damages increase during the operation and what cares shall be taken to upgrade the gearboxes during the reparing processes.
Due to the limited information sharing between the OEM and Owners regarding failure rates of main components it is hard to generate accurate failure curves (and subsequently the expected cost implication of replacement of components such as gearboxes). This is one challenging area we face and would like to improve our knowledge of.
We have currently had no significant gearbox faults across our fleet, but one windfarm is regularly curtailed (due to the grid restrictions) so the turbines are ramped up and down often thus I suspect the gearboxes would be wearing at a higher rate and reducing their lifetime?
How can we as owners be sure that our gearboxes are taken care of during full service agrement if there is no option to have proper particle counters mounted from factory?
How to detect gearbox problems from SCADA signals.
Gearbox leaks - How to use CMS and SCADA to gain the most crusial information.
Oil filter analysis - How represantive is it as a method to predict health?
Oil leakage from gearbox, particularly at the entry and output shaft, as well as at the so-called"rotating unit" at the rear of the gearbox, applies primarily to Vestas machines
Your top challenge – directly included
You and your most relevant challenges will be directly included in this roundtable discussion. Prior to the event you will share your top challenge and your input for other's top challenges – within the topic of this roundtable. When you arrive you will find a booklet with your top challenge at the top of one page and with suggested approaches from your peers around this roundtable underneath. There will be one such page for each participant and this will be the foundation for you discussions.