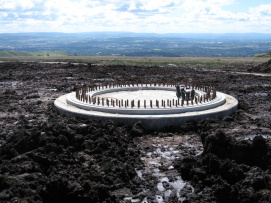 An event where you will only meet professionals working directly for other wind turbine owners
Don't waste your time traveling to conferences to listen to sales pitches. Cut out all sales pitches and meet directly - only with genuine wind turbine owner peers.

That's right, only professionals working directly for wind turbine owners can join this event. Meeting with only other end-users of wind turbines creates a completely different dialog, or as said by the Global Head of O&M at Enel Green Power who visited our event in 2017: "It has been a very productive and transparent dialog between all of us".

The roundtable presented below can be one of the most valuable discussions you will have this year:
Description:
Foundations are tricky and issues are appearing for many owners. From an O&M perspective, there are many mistakes to be done. Doing it right on an O&M level is great as this topic is even more advanced if it would become a legal issue.
Suggested agenda:
How to make a continuous monitoring of cracks
How to approach gaps between the concrete and the insert ring.
How to use distributed sensors configurations.
Which measurements are the OEMs doing to measure the deflection of the tower to foundation - using a DIN standard
How to use portable measuring equipment, 3 digital "dial gauges" (one every 120 degrees) connected to a data logger which samples the measurement data with 100Hz.
How to approach tendency of spalling of the concrete closest to the insert ring/tower,
How to seal to prevent water penetration
Understanding basic foundation failure mechanism - U-bar reinforcement bar bend crushing – ultimate limit state and fatigue.
Understanding basic foundation failure mechanism - Concrete crushing above the flange plate – ultimate limit state and fatigue.
Understanding basic foundation failure mechanism - U-bar reinforcement fatigue failure.
To check that the seal is working otherwise even with a single flange, water will penetrate around the insert ring and abrasively make the ring to come loose.
Case Studies presented and discussed by:
Brian Mullen, Operations Manager at Energia Generation - Ireland
Eoin O'Donovan, Asset Manager at Brookfield Renewable Energy Group - Ireland
Kris Gevens, Wind asset manager at EDF Luminus - Belgium
Nikola Pletikosa, Project Manager at EKO d.o.o. - Croatia
Zhukov Gennadiy, Head of Butievo wind farm at DTEK - Ukraine
Your top challenge – directly included
You and your most relevant challenges will be directly included in this roundtable discussion. Prior to the event you will share your top challenge and your input for other's top challenges – within the topic of this roundtable. When you arrive you will find a booklet with your top challenge at the top of one page and with suggested approaches from your peers around this roundtable underneath. There will be one such page for each participant and this will be the foundation for you discussions.