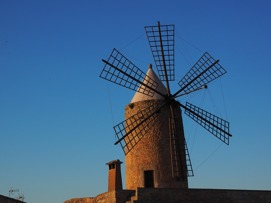 Wind turbine owner's roundtable:
LTE Lifetime Extension for Wind Assets
25 OCT - 11:00 - 12:45
An event where you will only meet professionals working directly for other wind turbine owners
Don't waste your time traveling to conferences to listen to sales pitches. Cut out all sales pitches and meet directly - only with genuine wind turbine owner peers.

That's right, only professionals working directly for wind turbine owners can join this event. Meeting with only other end-users of wind turbines creates a completely different dialog, or as said by the Global Head of O&M at Enel Green Power who visited our event in 2017: "It has been a very productive and transparent dialog between all of us".

The roundtable presented below can be one of the most valuable discussions you will have this year:
Description:
In relation to all the buzz on LTE a wind turbine owner questioning how some organizations and certification entities are trying to create a new market niche with the "re-certification" of the lifetime extension of the wind assets. His further reasoning was if this certification needed, is there any regulation to control this issues, how is safety issues regulated in the "re-certification" and how does that comply with the IEC61400 standard.
Let's look into this so that any re-certifications will serve the owners and maybe we could also get involved in shaping this standard having the outcome from these roundtable discussions as our contribution to the stakeholders who will shape the re-certification.
Agenda suggested for discussions:
Is the re-certification standard needed?
How is safety issues regulated?
How does the re-certification comply with the IEC61400 standard?
How to approach the LTE offered by the OEMs and ISPs
How would the wind asset owners like to do this re-certification and how could we compose such a recommendation to Industry?
Is Big Data ready to help us for lifetime extension?
Will major components last at least the design lifetime?
What are the main steps that should be done to prolong the lifetime of the wtgs?
How will the safety be challenged?
How to estimate the expected lifetime of gearbox, generator, transformer, blades?
LTE vs. Repowering - what is the better deal?
How to verify status of wind turbine components?
Inspection regime for LTE?
Which analysis and calculations are required for a lifetime extension offshore?
Your top challenge – directly included
You and your most relevant challenges will be directly included in this roundtable discussion. Prior to the event you will share your top challenge and your input for other's top challenges – within the topic of this roundtable. When you arrive you will find a booklet with your top challenge at the top of one page and with suggested approaches from your peers around this roundtable underneath. There will be one such page for each participant and this will be the foundation for you discussions.
Companies to be found at various roundtables in 2018: