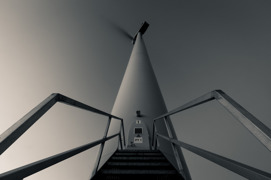 Wind turbine owner's roundtable:
Measurement Campaigns to Optimise Turbines
25 OCT - 11:00 - 12:45
An event where you will only meet professionals working directly for other wind turbine owners
Don't waste your time traveling to conferences to listen to sales pitches. Cut out all sales pitches and meet directly - only with genuine wind turbine owner peers.

That's right, only professionals working directly for wind turbine owners can join this event. Meeting with only other end-users of wind turbines creates a completely different dialog, or as said by the Global Head of O&M at Enel Green Power who visited our event in 2017: "It has been a very productive and transparent dialog between all of us".

The roundtable presented below can be one of the most valuable discussions you will have this year:
Description:
Many of the measurement methods are new, advanced to apply, generating data that is difficult to penetrate and its all very expensive. Although some owners have found that more than 50% of their turbines had yaw misalignment error. Some owners think that an old fashion Excel analysis of production data will cover the majority of deviation and that many of the new methods should be used only when further analysis are required. A perfect theme for a peer-to-peer discussion.
Agenda suggested for discussions:
Experiences from different measurement methods
Invest in systems that detects bigger deviations rapidly?
How to get a good cooperation with the turbine manufacturer?
How to approach the numbers from the suppliers?.
Which root causes for non-optimised turbine were found?
Which ROIs have we seen from our wind measurement campaigns?
How to measure AEP increase?
How to verify a power performance increase
It should be possible to analyse site data and optimise power output from each wind turbine to minimise overall losses independent of the WTG manufacurer. How should we go about this?
Procedure to identify a known issues?
Best process to set up correctly during commissioning & subsequent years?
Ways to model misalignment / power curve losses Environment / landscape factors?
how can Measurments on the turbines help to decrease the number of hours technicians Need to work on the turbines?
We can do measurement campaigns, but how to have an OEM to optimise turbines based on measurement campaigns (as they are usually very reluctant to modify anything)?
Wind vane and anemometers are not calibrated but they have big role in pitch regulation and near cut-out wind speeds operation
Your top challenge – directly included
You and your most relevant challenges will be directly included in this roundtable discussion. Prior to the event, you will share your top challenge and your input for other's top challenges – within the topic of this roundtable. When you arrive you will find a booklet with your top challenge at the top of one page and with suggested approaches from your peers around this roundtable underneath. There will be one such page for each participant and this will be the foundation for your discussions.