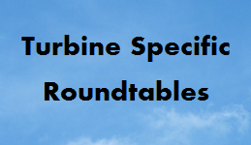 End-User in Roundtable discussions on the:
Senvion MM
Including following models:
MM82, MM92 & MM100

25 OCT - 13:45 - 15:30
Description:
The Senvion MM-machine is one of their most successful machines. First introduced as an 80m-machine, but soon the MM-platform was extended with 92m and 100m rotor-versions - all with 2 MW generator. Based on already well-known classic technology (drive-train with the gearbox, electric pitch etc) the machines have little to suffer from defects. Senvion owners want to go beyond availability to improve reaction in case of defects, to work in a more predictive approach to avoid defects and to continuous try to maintain and improve the AEP.
Agenda suggested for discussions:
Communication/documentation on maintenance and repair actions
Improvements beyond availability eg Yaw alignment, optimal pitch etc
How to identify potential failure of inverters in the Senvion fleet - what are the key inspection items?
Case Studies presented and discussed by:
Adam Greenslade, UK & Nordic Operations Manager - Onshore Wind at E.ON UK - United Kingdom
Gabriel Negrescu, Operation and Maintenance Manager at CEZ Group - Romania
João Barrambana, Management & Operations Engineer at Iberwind - Portugal
Kieran Tubridy, Asset manager at NTR PLC - Ireland
Kris Aper, Construction and Maintenance Manager at Fortech - Belgium
Your top challenge – directly included
You and your most relevant challenges will be directly included in this roundtable discussion. Prior to the event you will share your top challenge and your input for other's top challenges – within the topic of this roundtable. When you arrive you will find a booklet with your top challenge at the top of one page and with suggested approaches from your peers around this roundtable underneath. There will be one such page for each participant and this will be the foundation for you discussions.