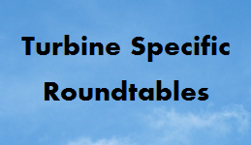 End-User in Roundtable discussions on the:
Siemens 2,3
Including following models:
CS 2,3 and VS 2,3
25 OCT - 13:45 - 15:30
An event where you will only meet professionals working directly for other wind turbine owners
Don't waste your time traveling to conferences to listen to sales pitches. Cut out all sales pitches and meet directly - only with genuine wind turbine owner peers.

That's right, only professionals working directly for wind turbine owners can join this event. Meeting with only other end-users of wind turbines creates a completely different dialog, or as said by the Global Head of O&M at Enel Green Power who visited our event in 2017: "It has been a very productive and transparent dialog between all of us".

The roundtable presented below can be one of the most valuable discussions you will have this year:
Description:
2.3 G (geared) bring us back to Bonus in the early 2000s. It is known as "the tried and tested workhorse for reliability" in the Siemens Wind Power range. A long, slim, cylindrical nacelle with a long conical nose, the silhouette is easy to recognize. Torsional stiffness is typical as the half cylinder welded base frame is the bottom part of the nacelle itself. It is also very compact. Then the drawback is the lack of internal space for the technicians to stand up without opening the roof which is the top half of the cylinder.

Blade technology with monoblock infusion may give more confidence on the long run but requires more attention during the manufacturing process and quality control. Good reputation for the first versions with 82 and 93 m rotor diameter, it seems that more recent versions starting with 101 m are subject to serial early wear in specific conditions. Siemens 1.3s are getting older besides the common mechanical issues it seems that the welding process of the flanges on the tower is showing its limit.
Agenda suggested for discussions:
Site assessment for fatigue loads and lifetime
Mechanics: Yaw system, Gearboxes early wear, pitch bearings fatigue cracks
Main shaft & bearing and fatigue calculation
Blades health assessment
Hydraulics: Pump system and Pitch system
Electrics: Generator, Grid compliance, Lightning and transient protection
Controls: Errors and Blade calibration
Comparison of experiences in operations
Do we have access to all information the OEM can provide?
Transparency of condition monitoring
Is the repair solution on the main bearing implemented by the OEM good enough?
Problems with generators, gear box bearings or blade bearings?
Your top challenge – directly included
You and your most relevant challenges will be directly included in this roundtable discussion. Prior to the event you will share your top challenge and your input for other's top challenges – within the topic of this roundtable. When you arrive you will find a booklet with your top challenge at the top of one page and with suggested approaches from your peers around this roundtable underneath. There will be one such page for each participant and this will be the foundation for you discussions.