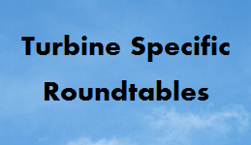 End-User in Roundtable discussions on the:
Siemens DD
Also including the SWT-3.15-142, 3.2-101, 3.4-101, 3.2-108, 3
.4-108, 3.2-113 and 6.0-154 models
25 OCT - 13:45 - 15:30
Agenda suggested for discussions:
Air Gap and Blade Vibration Alarms
Level of damages, Wear & tear classification, Repair procedure after x amount of years, How good is the repair?
What are the experience with the Siemens 6 and 7 DD already in operation?
Case Studies presented and discussed by:
Alistair Hinton, Commercial Manager (Generation) at Vattenfall Wind Power Limited - United Kingdom
Eoin O'Donovan, Asset Manager at Brookfield Renewable Energy Group - Ireland
Feichin McCormack, Operation engineer at Energia Generation - Ireland
Friedrich Von Storch, Operations Manager at EnBW Energie Baden-Württemberg AG - Germany
Lars Berger, Technical Support at Vattenfall Europe Windkraft GmbH - Germany
Nikola Pletikosa, Project Manager at EKO d.o.o. - Croatia
Sverre Trolness, Head of Operations at STATOIL ASA - Norway
Your top challenge – directly included
You and your most relevant challenges will be directly included in this roundtable discussion. Prior to the event you will share your top challenge and your input for other's top challenges – within the topic of this roundtable. When you arrive you will find a booklet with your top challenge at the top of one page and with suggested approaches from your peers around this roundtable underneath. There will be one such page for each participant and this will be the foundation for you discussions.
Companies to be found at various roundtables in 2018: