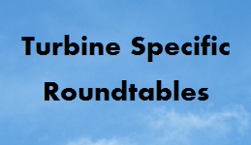 End-User in Roundtable discussions on:
Vestas 1,8-2 MW
Including following models: V80, V90, V100, V110

25 OCT - 13:45 - 15:30
Description:
The Vestas 1,8-2 MW platform includes the most sold models from Vestas. It is very popular among wind turbine owners but the owners have also had several issues with the gearboxes, main bearing, hydraulic pressure, slip ring problems and SKIIP pack errors. Technical issues will be discussed as well as how the end-users can build alternative / improved supply chain on spare parts, make more qualified demands on your O&M provider (pay only for root cause parts, not for "none broken parts" and how experiences for how to claim correctly before EOW.
Agenda suggested for discussions:
Mechanics: Yaw system, Gearbox,
Main shaft & bearing and Blades
Hydraulics: Pump system and Pitch system
Electrics: Generator, Grid compliance, Lightning and transient protection
Controls: Errors and Blade calibration
Foundations issues. What can be done to find out upfront.​​​​​​​ What can be done after problems have been detected?
Comparison of experiences in operations
How to conduct Foundations monitoring
Do we have access to all information the OEM can provide?
Case Studies presented and discussed by:
Giuseppe Madia, Head of Power Generation Portfolio at IWB - Switzerland
IñIgo Luna, Support Manager at Gas Natural Fenosa - Spain
Jacek Aronowski, Deputy Director Operations Department at PGE ENERGIA ODNAWIALNA S.A. - Poland
Oliver Constanso, Head of Technical Performance Management, Innogy - Spain
Thomas Stalin, Senior Wind Technology Expert at Vattenfall Wind Power AB - Sweden
Your top challenge – directly included
You and your most relevant challenges will be directly included in this roundtable discussion. Prior to the event you will share your top challenge and your input for other's top challenges – within the topic of this roundtable. When you arrive you will find a booklet with your top challenge at the top of one page and with suggested approaches from your peers around this roundtable underneath. There will be one such page for each participant and this will be the foundation for you discussions.