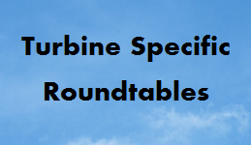 End-User in Roundtable discussions on the:
Vestas V90 3MW

25 OCT 13:45-15:30
Agenda suggested for discussions:
Foundations

Gearbox failures
Blade
What are the major faults that are frequently occurring with this turbine type?
Case Studies presented and discussed by:
Jörgen Svensson, Business Area manager at Skellefteå Kraft AB - Sweden
Lars Kjærgaard Jespersen, Senior Engineer - Gearbox & Bearings at Vattenfall Vindkraft A/S - Denmark
Roland Flaig, Wind Operations - Head of EU North at E.ON - Sweden
Sergey Borovik, Director at Wind Tech LLC - Ukraine
Tiago Silva, Operation and Maintenance Manager at Iberwind - Portugal
Zhukov Gennadiy, Head of Butievo wind farm at DTEK - Ukraine
Your top challenge – directly included
You and your most relevant challenges will be directly included in this roundtable discussion. Prior to the event you will share your top challenge and your input for other's top challenges – within the topic of this roundtable. When you arrive you will find a booklet with your top challenge at the top of one page and with suggested approaches from your peers around this roundtable underneath. There will be one such page for each participant and this will be the foundation for you discussions.